Religion has played an important role in shaping American identity, purpose, and politics. The Religion in American History and Politics web site aims to be a reliable and informative guide to the multifaceted role of religion in American life.
We intend the site to illuminate both how religion has shaped America and how America has challenged and changed religion. Our goal is that the site reflect the depth and rich variety of American religious experiences and the ways in which such experiences relate to other ongoing social and political developments. Our hope is that in bringing together the material on the web site – political speeches and sermons, poetry and prose, art and artefacts, commentary and sound scholarship – we will open new pathways for investigating American history. We proceed in the conviction that as we learn to better understand the past, we will be better equipped to face and shape our civic future.
That is our long term goal, which we will reach by adding material to the site regularly to broaden its field of vision and deepen its presentation.
David Tucker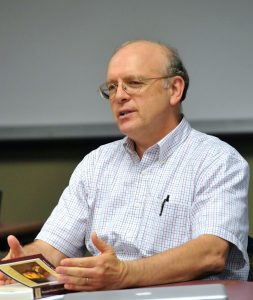 David Tucker is a Senior Fellow at the Ashbrook Center at Ashland University, Ashland, Ohio, the Associate Director of the Center's Master of Arts in American History and Government program, and co-Director with Sarah Morgan Smith of the Center's program on Religion in American History and Politics.  Prior to working at the Ashbrook center, he taught for 15 years at the Naval Postgraduate School in Monterey, California and worked both in the Pentagon and overseas for the U.S. government.  Prior to his government service, Tucker was a William Rainey Harper Fellow at the University of Chicago.
Tucker earned his Ph. D. in history at the Claremont Graduate School in 1981.  His most recent publications include Revolution and Resistance: Moral Revolution, Military Might, and the End of Empire (Johns Hopkins, 2016); "Political Philosophy, Education, and Statesmanship" (Perspectives in Political Science, 2017); and "Fighting in the Swamps: John Quincy Adams, The First Seminole War, and The Monroe Doctrine" (forthcoming in War, Justice, and Peace in American Political Thought (Johns Hopkins University Press, 2017).
Sarah Morgan Smith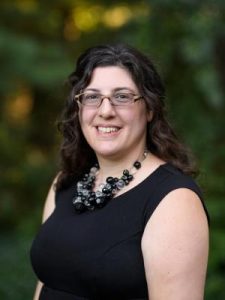 Sarah Morgan Smith is the co-director with David Tucker of the Religion in American History project. Her teaching and research focus on the intersection of religion and politics in American history, with an emphasis on questions of civic formation in sustaining political commitments. Drawing on her years in the field of public history and civic education, she is also deeply interested in the use of material culture and visual culture as sources for understanding the development of American political thought. She received her B.A. in history from Grove City College in 2001, her M.A. in American History and Government from Ashland University in 2009, and her Ph.D. in Political Science from Rutgers University in 2016.
Ellen Deitz Tucker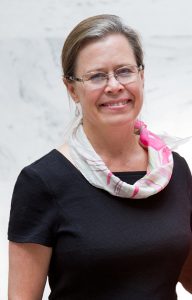 Ellen Tucker is the publications editor for the Ashbrook Center at Ashland University. She writes about literature and poetry for Religion in America.
Ellen earned a Ph.D. in English and American literature from Claremont Graduate School. She has taught composition and literature courses at a variety of colleges and universities and served during 1988-1989 as Fulbright Professor of American Studies at the National University of Côte d'Ivoire in Abidjan (West Africa). More recently, she worked for several years as an editor in the scholastic testing industry.
Ellen works from her home office, during part of the year in Monterey, California. She is married to David Tucker, currently Senior Fellow at the Ashbrook Center.
Kathryn Pitrone
Kathryn Pitrone is the curator of visual culture for the Religion in American History project. She received her bachelor's degree in art history from Columbia University and a master's degree in American History and Government from Ashland University.  She was previously a teacher, beginning with homeschooling, then in private high schools, and finally at a local community college. She lives in a small town in Ohio where she is involved in her community, especially as county library trustee, and with her large and growing family.
The Ashbrook Center is grateful to the Diehl Family Foundation, the William H. Donner Foundation, and Ambassador John L. Loeb, Jr. and the George Washington Institute for Religious Freedom for providing the funding that made this project possible.